The fresh, fragrant taste of Vietnam combined with the not so sinful Lo-Dough make this dish a smash hit. The infamous Banh Mi is made traditionally with pork, grated carrot and coriander on a soft, white French baguette. We've kept the star ingredients, but unlike both the baguette which is high in carbohydrates, Lo-Dough comes to the rescue with its low calorie, low carb goodness.
Ok, so it may not be a true banh mi, but this version is strictly low carb and on the program. Inspired by the authentic flavours of Vietnam, we've added plenty of tasty ingredients into the mix for a show-stopping flavour explosion. We've also added gut cleansing red kimchi for optimum nutrition.
This is a perfect dish for serving canapés at a party, having friends round for dinner or enjoying a low carb, cultural dish with your family.
Ingredients
Serves 12
3 pieces of Lo-Dough, cut into 12 circles
200g Lean Tenderloin Pork Fillet
100g Carrots, finely sliced
100g Mooli, finely sliced
1 small Chilli, finely sliced
4 tbsp Red Kimchi
4 Spring Onions, finely sliced
2 sprigs of Fresh Coriander
Frylight
20g Sesame Seeds
1 Lime, zest and juice only
For the glaze
4 tbsp Soy Sauce
1 tbsp Salted Caramel Skinny Syrup
1 Orange, zest and juice only
1 tbsp Grated Ginger
What you'll need
This diet-friendly recipe is possible with:

Original Lo-Dough Bases
Regular price
from £3.49
Out of stock
Method
Preheat the oven 180˚C whilst you prepare the glaze.
For the glaze mix the soy sauce, skinny syrup, orange juice/zest, and ginger.
Place pork loin in an oven proof dish and rub with glaze.
Cook pork, occasionally basting for 20-25 mins.
Whilst the pork is cooking in the oven, mix the carrot, mooli, coriander, chilli and spring onions in a bowl.
Take your Lo-Dough out of the packet and cut into circular shapes using a pastry cutter. This should give approx. 4 per Lo-Dough piece. (Excess trim can be kept, dried out and blitzed into breadcrumbs or used as a snack).
Spray the Lo-Dough on one side with frylight and sprinkle with sesame seeds.
Take the pork out of the oven and allow to cool for 5-10 minutes.
Once cool, cut and layer one tbsp of pork and a tbsp of your pre-made mix into each of the Lo-Dough shapes, with the sesame seeds facing down on the board.
Drain the Kimchi before adding one tsp on top of the mixture.
Take extra care, fold your Lo-Dough into a taco shape, using a toothpick through the top centre of the Lo-Dough in order to secure.
Dress with lime juice/zest and serve.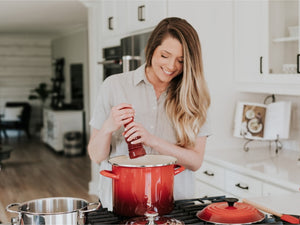 Hungry for more recipes?
Join over 200,000 subscribers in receiving new recipes, tips, offers and a whole lot more.