This low-carb pizza is our version of the late-night takeaway classic
It's time to feel the heat - if you are making spicy beef, you'd better go hard, or go home! The spicy beef needs a bit of preparation - 5-10 minutes to get it cooked through and crispy, but it's great to have on standby in the fridge (it'll keep for around 3 days) - quickly reheated and tossed over a salad, into stir-fries etc, it's delicious. 
But for us, it's all about the low-carb pizza - get your hot sauces and chillies out and give this recipe a go!
Ingredients
Serves 1
1 piece of Lo-Dough
70G of grated mozzarella
50G of 5% fat beef mine
10g of red onion, finely sliced
Half a red chilli, finely sliced
A pinch of chilli flakes
A few drops of Tabasco
A few drops of Worcester sauce
What you'll need
This diet-friendly recipe is possible with:

Original Lo-Dough Bases
Regular price
from £3.49
Out of stock
Method
Preheat your oven to 220°C/ 428°F/Gas 7.
In a few sprays of oil, hard fry your mince, onions and chilli until brown. Finish with the chilli flakes, Tabasco, Worcester sauce and boil for the final minute.
Spread the passata over your Lo-Dough, smooth side up, taking it right to the edge.
Top with the cheese and then add the fried beef mix.
Bake in your oven for 7-10 minutes, or until golden and bubbling. Serve straight away.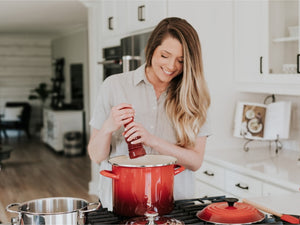 Hungry for more recipes?
Join over 200,000 subscribers in receiving new recipes, tips, offers and a whole lot more.