This classic combo makes a perfect low-carb toastie filling
Steak and blue cheese is a time-honoured partnership and fantastic, indulgent treat. This high-fibre and low-carb toasted sandwich is a doddle to make but delivers in spades on flavour. Serve alongside a peppery rocket salad. 
Tender steak. Oozy cheese. Peppery fresh salad. What more do we need to say?
Ingredients
Serves 1
1 piece of Lo-Dough
100g rump steak, cooked to your liking
50g Roquefort cheese
Small handful of rocket leaves
A squeeze of lemon
What you'll need
This diet-friendly recipe is possible with:

Original Lo-Dough Bases
Regular price
from £3.49
Out of stock
Method
Cook your steak to slightly under your liking. Allow to rest and then slice across the grain. A 200g steak will make two toasties.
Preheat your sandwich press/griddle.
Add your steak, cheese, roquefort, rocket and a squeeze of lemon then close over the lid half of the Lo-Dough.
Spray the sandwich press/griddle with oil, place your Lo-Dough sandwich in and close the press.
Cook for 3-4 mins and serve.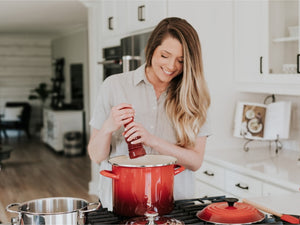 Hungry for more recipes?
Join over 200,000 subscribers in receiving new recipes, tips, offers and a whole lot more.