Don't be anybody's fool - Make this low carb dessert with Lo-Dough's Vanilla Sponge Mix and you can have your cake and eat it 
A quintessentially British summer dessert, a fool is effectively crushed or stewed fruit stirred through whipped cream or even, custard. For us - looking at making this a low-carb dish, suitable for keto, it was always going to be unadulterated cream - and our most popular summer berry, the strawberry. 
Other than the cream and the strawberries, you'll need a little sweetener and the secret ingredient, some chopped up left over vanilla sponge cake. It's a great use for any last little bits and bobs and makes this speedy dessert that little bit more substantial, for hungry bellies, without moving the dial for carbs or sugars!
Ingredients
Serves 0
1 portion of leftover cake made with the Lo-Dough Vanilla Sponge Mix
90g whipped cream
50g strawberries
What you'll need
This diet-friendly recipe is possible with:

Lo-Dough Vanilla Sponge Mix
Regular price
£2.50
£5.49
Out of stock
Method
Chop or break the cake apart into little pieces.
Squash the strawberries with a fork and then mix through the cream.
Add the mix to a glass adding layers of cake pieces as you go.
Chill for approx two hours and serve cold.
You can lighten this further and lower the calories by cutting 50% of the cream with low fat yoghurt, though the fool wont set quite as firm.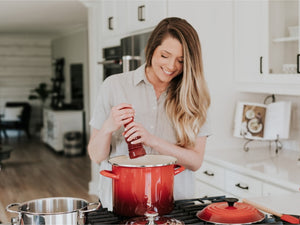 Hungry for more recipes?
Join over 200,000 subscribers in receiving new recipes, tips, offers and a whole lot more.