This mix of berries and indulgent creamy cheese mix sits on top of our delightfully low-carb cheesecake base mix
You heard that right - we are telling you that you can eat an amazing low calorie cheesecake without feeling the compromise. It's a simple-to-make, cold dessert that is perfect for a summer's day. 
This no bake dessert can be assembled in around 15 minutes and then left to set in the fridge, ready for you to get your hands on in when you are ready. The crumb gives it that all important texture, but remains, low carb and gluten free, all thanks to Lo-Dough.
Bon Appetit!
Ingredients
Serves 1
½ piece of Lo-Dough
1 teaspoons butter
1 teaspoons of skinny syrup
50g quark
50g 'light' soft cheese
2 teaspoons of sweetener
Vanilla seeds, paste or extract to taste
30g of frozen summer fruits, defrosted (plus some extra berries to decorate)
What you'll need
This diet-friendly recipe is possible with:

Original Lo-Dough Bases
Regular price
from £3.49
Out of stock
Method
Blitz your Lo-Dough to fine crumbs in a food processor.
Melt the butter in a pan on a medium heat and add the Lo-Dough crumbs a teaspoon of sweetener, a squirt of the skinny syrup and keep stirring for 4-5 minutes until the crumbs have turned golden and crisp.
Add the crumbs to the bottom of a glass and press down with the back of a spoon.
While the crumbs set firm, mix the quark, cheese, vanilla, summer fruits and 2nd spoon of sweetener in a bowl.
Once ready, add the sweet cheese mix on top of the crumbs. Once this all in, smooth off the top and then push your blueberries in - put in fridge to set for 2 hours minimum. Serve with a few extra decorative berries.
To enjoy as a higher fat keto cheesecake, mix whipped double cream and full fat cream cheese together and use as the filling with the fruit and sweetener.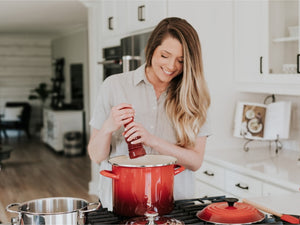 Hungry for more recipes?
Join over 200,000 subscribers in receiving new recipes, tips, offers and a whole lot more.