Our take on Turkish eggs makes for the ultimate keto breakfast recipe
It's always nice to ring the changes and if you were looking for an interesting way to cook up your eggs of a morning, you could do a lot worse than Turkish eggs.
The recipe calls for a relatively high level of fat which makes it ideal for keto, though is commonly served with bread which immediately cancels its ketogenic properties. By swapping that bread for our delicious Lo-Dough cheese and dill slices, you can enjoy this incredible breakfast while staying in ketosis. 
This is nothing short of delicious - and thanks to Lo-Dough, it's filling and thoroughly satisfying too.
Ingredients
Serves 1
1 piece of Lo-Dough
60 of reduced fat cheese
2 eggs Half tsp of garlic clove, peeled and crushed
60g of sour cream
20g of unsalted butter
Half tsp of dried chilli flakes
A few sprigs of dill, or flat parsley, shredded
1 tbsp of white vinegar
Method
Add the sour cream to a bowl with the garlic and whisk together for 10 seconds to combine. Set aside at room temperature until ready to serve.
Make some simple Lo-Dough toasts - a touch of the garlic/sour cream as a base sauce, with the grated cheese sprinkled over. Bake in a high oven (220C) for approx 7-10 minutes.
Add the butter to a pan and cook until a pale beurre noisette (brown butter) is achieved. Remove from the heat, add the chilli flakes and swirl the pan gently, allowing the flakes to sizzle. Stir in the chopped dill, then set aside in a warm place.
Bring a pan of water to a rapid simmer, then add the vinegar. Add the eggs and poach to your liking - never add salt to the water when poaching eggs, as this causes them to break up
To serve, add the garlic cream to the base of a bowl. Add 2 poached eggs to each bowl. Sprinkle dill and parsley over the top, then spoon over the chilli butter. Serve immediately and mop up all the gooey egg, butter and yoghurt with your Lo-Dough toasts.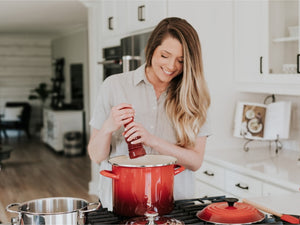 Hungry for more recipes?
Join over 200,000 subscribers in receiving new recipes, tips, offers and a whole lot more.