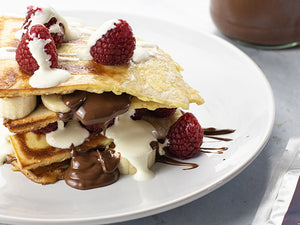 gluten-free
vegetarian
Low-Sugar Chocolate Spread French Toast
Share
Facebook
Twitter
WhatsApp
Email
Make breakfast sweet without the sugar. Check out this reduced carb breakfast treat
Lo-Dough French toast has proven a hit with our customers in all its forms. Savoury or sweet, this way of treating Lo-Dough always delivers.
This particular recipe falls firmly on the sweet side. We've selected a low-sugar chocolate spread and combined with fruit, low-fat yoghurt and the all important low-carb French toast. By making your french toast this way, you are drastically altering the nutritional composition of the dish for the better, without sacrificing on flavour. 
If you like a sweet start to the day, this could be the one for you. 
Note: 16 out 20 grams of sugar in this dish comes from the fruit.
Ingredients
Serves 1
1 piece of Lo-Dough, cut into quarters
1 small egg, beaten
20g of erythritol sweetener
20ml of milk (semi-skimmed)
Spray oil
1 small banana, chopped
A handful of raspberries
3 tablespoons of low-sugar chocolate spread
2 tablespoons of low-fat yoghurt
What you'll need
This diet-friendly recipe is possible with:

Original Lo-Dough Bases
Regular price
from £3.49
Out of stock
Method
Add the eggs, sweetener and milk to a bowl and mix well with a fork. When combined, add your Lo-Dough.
Leave this mix in the fridge for a minimum of 30 minutes, for the Lo-Dough to absorb the liquid.
On a very low heat, add the spray oil to a pan and gently fry until golden brown.
Serve stacked up with the fruit, choc spread and yoghurt.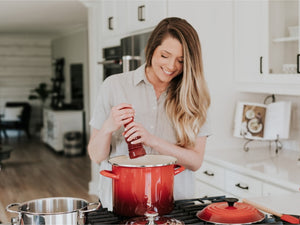 Hungry for more recipes?
Join over 200,000 subscribers in receiving new recipes, tips, offers and a whole lot more.