Get your taste buds dancing with this amazing low calorie bacon and syrup pizza
When the mix of sweet and salty pops in your mouth, it really pops off. This combination might sound a tiny bit crazy, but trust us, it works a treat. Combining Lo-Dough's bases and NKD's syrup, you can create these incredible low-carb pizzas without any kind of compromise whatsoever. What's more, in just one pizza, you are getting 14g of fibre. That's just under half your daily recommend intake for the day!
With Lo-Dough, low-carb pizza is as easy as pie. Pizza pie! 
Ingredients
Serves 1
1 piece of Lo-Dough
30g of passata
40g of grated mozzarella
50g of soft goats cheese
30g of bacon, grilled
A tablespoon of NKD gold syrup to finish
What you'll need
This diet-friendly recipe is possible with:

Original Lo-Dough Bases
Regular price
from £3.49
Out of stock
Method
Preheat your oven to 250°C/475F/Gas 9.
Spread the passata across the Lo-Dough in a thin layer, right up to the edge.
Spread the grated cheese, bacon and blobs of the goats cheese on top s. Put the pizza in the oven and cook for 7-10 minutes or until golden and bubbling.
Serve with crack of black pepper and the NKD syrup.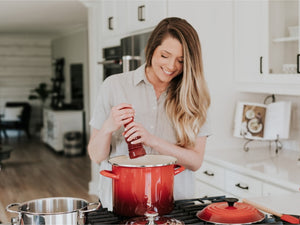 Hungry for more recipes?
Join over 200,000 subscribers in receiving new recipes, tips, offers and a whole lot more.