A nutritious, super healthy low-carb lunch recipe
A combination often seen on bistro-style menus is smoked oily fish with beetroot and horseradish. It's a modern classic. Why? It just works. Well, now it can work for you as a filling and satisfying low calorie meal, using Lo-Dough.
This omega-3-rich mackerel, naturally sweet beetroot and hot horseradish combination thrown into a low calorie Lo-Dough wrap with mixed salad is positively bursting with fresh flavour and makes the perfect light lunch. 
Low calorie lunch recipes, quick & easy
There are plenty of superb lunch ideas which you can make with Lo-Dough to go with your fitness goals or fit in with your diet plan. That's the magic of Lo-Dough - being able to enjoy the food you love without going hard on calories and the bad stuff. Lunch has never been better.
Ingredients
1 piece of Lo-Dough
60-70g of smoked mackerel (1 fillet)
Half a cooked beetroot, sliced
7g of sliced red onion (a few slices)
1 Cherry tomato, sliced
A handful of salad
Half a teaspoon of capers
1g of picked parsley leaves
Half a red chilli, chopped
For the sauce
2 teaspoons of grated horse radish, mixed with a little fat free yoghurt (you can buy horseradish sauce, but it will contain a few more calories and wont taste as fresh)
What you'll need
This diet-friendly recipe is possible with:

Original Lo-Dough Bases
Regular price
from £3.49
Out of stock
Method
Lightly toast the Lo-Dough in a pan over a high heat for a few seconds until it has a light char.
Arrange all the salad components on top of the Lo-Dough, followed by the fish.
Dress with a few blobs of the horseradish yoghurt (or sauce) and a very light drizzle of balsamic, if desired, then wrap it up and enjoy!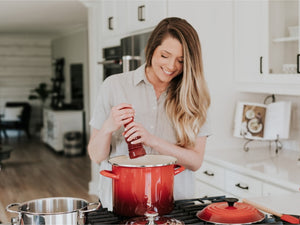 Hungry for more recipes?
Join over 200,000 subscribers in receiving new recipes, tips, offers and a whole lot more.