A Perfect Low-Cal Meat-Free Pizza.
This is a great one for the vegetarians or just those who like to limit their meat consumption. This is a super healthy goat's cheese and roasted red pepper pizza - perfect spring/summer colours and flavours.
Topped with a little onion for bite and chilli for heat, this one weighs in at very agreeable 249 calories and 16g of protein and is quite frankly veggie pizza heaven.
Low
-Fat Pizza Bases Are Best With Lo-Dough
Low-calorie pizza recipes from Lo-Dough are even better for you when you go meat-free. For calorie control, we roasted our own peppers in the oven (it adds on a good 15 mins to the prep-time) because that way they didn't come out of a jar of calorie-laden oil, but if you need to hurry things along buy your peppers ready-roasted in a jar.   
Lo-Dough has an array of healthy vegetarian recipes - why not give them a try today.
Pizza is done differently with Lo-Dough, not only does it slash the calories and make eating pizza part of a super healthy and slimming diet but it can also promote better nutrition. High fibre, high protein, low calorie, and 100% melt in the mouth lovely.
#makeitwithlodough
Ingredients
1 piece of Lo-Dough
2 tbsps of passata
75g of roasted red pepper, skin peeled away and chopped
60g of soft goats cheese
10g of red onion, finely sliced
Half a red chilli, sliced
Fresh basil
2-3 sprays of fry-light oil
What you'll need
This diet-friendly recipe is possible with:

Original Lo-Dough Bases
Regular price
from £3.49
Out of stock
Method
Preheat your oven to 250°C/475F/Gas 9.
Cut your red pepper in half and place it in the oven, on a tray, skin side up with a spray of fry-light - cook for approx 15 mins. Take out and a allow to cool. Once it can be handled, peel away the skin and cut up.
Spray the fry-light into a pan, and fry off your Lo-Dough to add some colour to the base.
Put the Lo-Dough onto your cooking tray/pizza stone/air-fryer stand and spoon the passata over, making sure to spread it right to the edge.
Add the cheese, then the peppers, onions and chilli.
Bake in your oven for 6-7 minutes. After removing, sprinkle with basil leaves for flavour and colour. Serve straight away.
💡 Top Tip
If you feel you like your base could be crispier when it comes out, try adding back to a hot, dry frying pan for 8-10 seconds and remove with a fish slice.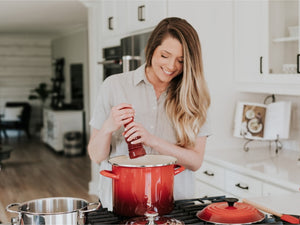 Hungry for more recipes?
Join over 200,000 subscribers in receiving new recipes, tips, offers and a whole lot more.