Use Lo-Dough As A Low-Calorie Pastry Replacement
There are few more comforting foods than pies and pasties - hot, straight from the oven, maybe with a little extra gravy. If you are trying to adhere to either a low-fat, low-carb diet or even a gluten-free diet, this kind of food is often off the menu as regular shortcrust and/or puff pastry is primarily made of butter and flour.
Now, thanks to the versatility of Lo-Dough, pies, pasties and puddings are back on the menu and tasting as delicious as ever, but with the calories and carbs slashed - Lo-Dough being approximately a fifth of the calories of puff-pastry. 
Low-Carb Pastry Perfection
Our pasty here is the perfect example of a pastry dish being a vehicle for using up leftovers. We had a mince and onion mix (mince, onions, carrots, herbs and a little bit of gravy) left over from another meal and decided the best way of breathing new life into it the next day was to transform it into a pasty. By placing approx. 150g of the mix into the middle of a piece of Lo-Dough and damping the edge of the piece with a little water, you can fold it over and create a seal around the filling. If you egg-wash the Lo-Dough before and during baking, you can build up a beautiful, golden, pastry-like finish. They can be served alone as a lunchtime treat, or partnered with mixed veg and more gravy as a filling evening meal. 
Obviously, your pasty and pie fillings will be dictated by your diet, so be watchful of what you put in as a filling - but clever cooking should be able to allow you to recreate most dishes you could think of - dessert pies included. 
So from a Cornish pasty to a spinach and feta bake, apple pie to custard tart, pastry is back on the menu for everyone, no matter what their diet.
Ingredients
Serves 1
For the filling
(pre cooked and cooled down):
100g of beef mince
20g of onion, finely chopped
20g of carrot, finely chopped
½ a clove of garlic, finely chopped
¼ of a stock pot
A teaspoon of fresh thyme
4-6 sprays of fry-light
Salt & pepper
For the pasty
1 piece of Lo-Dough
1 egg, beaten
What you'll need
This diet-friendly recipe is possible with:

Original Lo-Dough Bases
Regular price
from £3.49
Out of stock
Method
Preheat your oven to 180C/356F/Gas 4.
Roll out your Lo-Dough to flatten a little.
Take your pre cooked filling (Mince and onions, lightly fried and cooked in stock for 30mins or so) and place 130-150g in the middle of the Lo-Dough, leaving a bare edge all the way around. Be careful not to over fill as the Lo-Dough could break.
Moisten the bare edge with water and fold the Lo-Dough over. Press firmly together with your fingers. You can use a well fitting bowl to rest over the top to hold in place while the seal sets.
Glaze with a covering of more egg wash and place in the oven for 30-35 mins. Egg wash a couple more times whilst baking for a lovely golden finish.
Serve piping hot with vegetables of your choice, plus extra gravy if desired.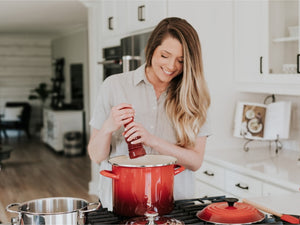 Hungry for more recipes?
Join over 200,000 subscribers in receiving new recipes, tips, offers and a whole lot more.