Did you know that according to tradition you should make a wish on the first mince pie of the season? After this, we're supposed to have at least one a day for each of the 12 days of Christmas. That's a lotta fat-laden pastry! By swapping pastry for Lo-Dough, you stay on track with your lifestyle goals whilst still being able to indulge in your favourite festive treats.
At only 206 calories for all eight mince pies, this particular festive treat has just made our Christmas binge much more acceptable than last year!
Now let's get baking.
Ingredients
Serves 8
1 piece of Lo-Dough
8 tsp mincemeat
2 tsp sweetener
2 tbsp cold water
Butter Frylight
Your choice: 1/2 tsp optional icing sugar
What you'll need
This diet-friendly recipe is possible with:

Original Lo-Dough Bases
Regular price
from £3.49
Out of stock
Method
Preheat oven to 180˚C.
Dissolve sweetener in the cold water in a small flat dish.
Using to round pastry cutter firmly press out 8 rounds from the Lo-Dough and set aside.
Using the decorative pastry cutter (or your own creative skills!), make 8 small decorations for adorning the tops.
Spray baking tray using butter Frylight.
Dip each round of Lo-Dough in the sweetened water and place in one of the baking tray moulds.
Add a teaspoonful of mincemeat to each piece and spread evenly leaving the edge clear.
Add a decoration to the top of each pie.
Spray generously with Frylight and then place the tray in the oven for approx 8-10 minutes (If after ten mins the bottoms are slightly moist, remove from moulds and place on a baking tray for a couple of mins to firm up).
Using a sieve, shake the icing sugar evenly between the pies.
Serve and enjoy!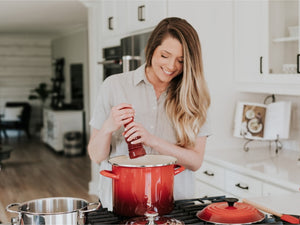 Hungry for more recipes?
Join over 200,000 subscribers in receiving new recipes, tips, offers and a whole lot more.