Bursting with flavour, vitamins and nutrients, this mixed fruit mug cake is a perfect breakfast/pud.
Frozen berries are a fantastic stand by to have and work perfectly in our Lo-Dough mug cakes, but if available, you can't beat fresh! Simple to make, quick to cook, low-calorie and high fibre - if you haven't tried a Lo-Dough mug cake yet, now's the time to rectify! 
Ingredients
Serves 1
1 piece of Lo-Dough, blitzed to fine crumbs
100g of lightly crushed mixed berries (fresh or frozen)
1 large egg, beaten
A small splash of milk
2 tbsp of sweetener
What you'll need
This diet-friendly recipe is possible with:

Original Lo-Dough Bases
Regular price
from £3.49
Out of stock
Method
Add all the ingredients to a bowl and mix well.
Put into a mug of your choice and cook in a microwave for 2-3 minutes (microwaves vary). The cake should feel 'just' cooked to the touch.
Take out and leave to stand for a further minute before turning out onto a plate.
Serve with yoghurt for breakfast or low fat crème fraîche and raspberry sauce for an indulgent pud.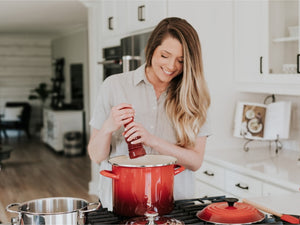 Hungry for more recipes?
Join over 200,000 subscribers in receiving new recipes, tips, offers and a whole lot more.