Low-Carb flatbread with Moroccan lamb for dinner?
This one lasted all of about 1 minute here at Lo-Dough HQ - trust us, it's brilliant.
The recipe uses harissa paste on the base and lamb mince cooked down in stock and spices as a topping. Dress with low-fat yoghurt and herbs.  
If you find the harissa a little too hot on its own, try diluting it with a little passata. 
As low-carb meals go, this is right up there with some of the best we've had!
Ingredients
Serves 1
1 piece of Lo-Dough
90g of lean lamb mince
½ a small onion, chopped
1 clove of garlic, crushed
½ a stock cube
1 heaped teaspoon of cumin
1 heaped tablespoon (approx. 30g) of harissa paste
2 tablespoons of fat-free greek yoghurt
Chopped parsley and spring onion to garnish
3 sprays of fry-light oil
What you'll need
This diet-friendly recipe is possible with:

Original Lo-Dough Bases
Regular price
from £3.49
Out of stock
Method
Preheat your oven to 250°C/475F/Gas 9.
Heat up a frying pan, add 3 sprays of fry light oil and brown off your lamb mince on a high heat, stirring constantly.
After a couple of minutes, add the chopped onion, garlic and cumin and cook for a further minute or two.
Add the stock cube and around 1/3 of a pint of water. Keep this boiling down until nearly all the liquid has disappeared. The mince will now be cooked and tender.
Spread the harissa paste onto the Lo-Dough, spreading right to the edge. Then add your lamb mixture on top, pressing down gently.
Cook in your oven for approx. 7 minutes.
Serve with Yoghurt dressing and herbs/spring onions over the top.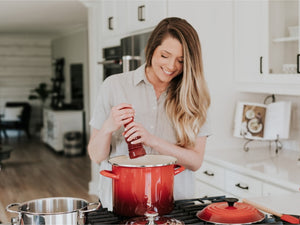 Hungry for more recipes?
Join over 200,000 subscribers in receiving new recipes, tips, offers and a whole lot more.