Use delicious Nduja as a classy topping for this low carb pizza
Using a very on-trend ingredient, Nduja, as a pizza topping is a no brainer. This spicy, fatty, soft sausage melts away perfectly into the cheese, creating a savoury flavour to die for on top of your pizza.
Keto pizza made in minutes
Thanks to the fattyness of the sausage combined with our low-carb pizza base, this particular recipe lends itself to the ketogenic diet perfectly. 
Ingredients
Serves 1
1 piece of Lo-Dough,
30g of nduja
60g of grated mozzarella
2 tablespoons of passata
A twist of black pepper
What you'll need
This diet-friendly recipe is possible with:

Original Lo-Dough Bases
Regular price
from £3.49
Out of stock
Method
Preheat your oven to 250°C/475F/Gas 9.
Spread the passata across the Lo-Dough in a thin layer, right up to the edge.
Spread the grated cheese on top of the passata and then add the nduja in little blobs. Put the pizza in the oven for 7 minutes or until golden and bubbling.
Serve with a crack of black pepper on top.
Spread that passata right to the edge of the base - its the Lo-Dough way.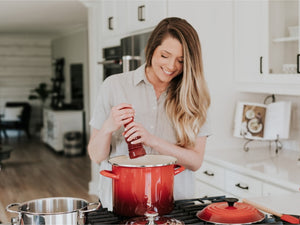 Hungry for more recipes?
Join over 200,000 subscribers in receiving new recipes, tips, offers and a whole lot more.