The original, the simplest and arguably the best
Authentic pizza sauce, Naples style. Serve on Lo-Dough with fresh mozzarella and basil for a low-calorie and low-carb version of the enduring pizza classic. 
This is a no-cook recipe - buy the best quality tinned tomatoes you can afford and they will speak for themselves (San Marzano are the authentic Neapolitan variety of choice). 
This sauce will keep in the fridge for a week, or in small pre-sized portions, ready to use from the freezer, but will always be best used fresh.
Ingredients
Serves 10
1 tin of high quality tinned tomatoes (ideally San Marzano)
Half a handful of basil
A pinch of salt
Method
Pulse the ingredients in a food processor (or make sure your hands are clean and just squeeze through your fingers) and store in a jar in the fridge or in portions in the freezer.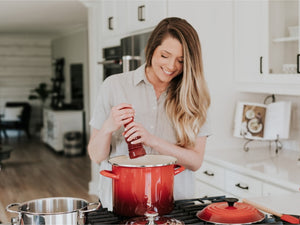 Hungry for more recipes?
Join over 200,000 subscribers in receiving new recipes, tips, offers and a whole lot more.