This one is for all of the green goddesses out there. Could there be a more delicious way to eat your greens? This Lo-Dough toasty hones in on superfood Cavolo Nero (otherwise known as Black Kale) and superstar LCHF ingredient Avocado.
January is a time for cooking lean, eating green and feeding the body with plenty of nutritional 'high vibrational' foods, and as far as eating this particular toastie goes, this is as close as we can get to our bodily cells having a mini celebratory dance. A thank you for the nutritional content of this incredibly low carb, high vibe lunch.
Top tip: Place a knife over the top of the Lo-Dough fold to keep the toastie firmly in place whilst putting the lid down on the sandwich press. Simply slide the knife out once the lid is in place.
Ingredients
1 piece of Lo-Dough
1 small avocado diced
1 tsp wholegrain mustard
Chilli to taste, finely diced
1 tsp lime juice
1 tsp lime zest
1 large handful of Cavolo Nero (black kale)
What you'll need
This diet-friendly recipe is possible with:

Original Lo-Dough Bases
Regular price
from £3.49
Out of stock
Method
Blanch the Cavelo Nero in boiling water for 2-3 minutes.
Drain and squeeze out excess water.
Mix the lime zest/juice, avocado, whole grain mustard, chilli in a small bowl.
Open a packet of Lo-Dough and take one piece (don't forget to remove the paper from the Lo-Dough).
Layer the Cavalo Nero over the Lo-Dougb, spoon on the avocado mixture over.
Fold and grill for 5 minutes until golden brown (we used a George Foreman Grill, but any sandwich press will suffice).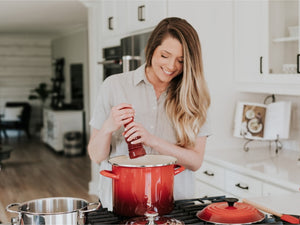 Hungry for more recipes?
Join over 200,000 subscribers in receiving new recipes, tips, offers and a whole lot more.