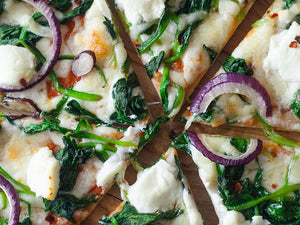 gluten-free
vegetarian
Padana Pizza (Spinach, Goats Cheese & Onion)
Share
Facebook
Twitter
WhatsApp
Email
A delicious combination - probably most famous in its high street pizza chain incarnation!  Ours is the low-carb, low-calorie version!
This is a seriously tasty pizza - meat-free, full of flavour - plenty of healthy spinach, tasty goats cheese and sweet onions. But thanks to the Lo-Dough base, it's wonderfully low-carb and low calorie and stacked with plenty of fibre. 
This could be all yours in under 20 minutes... so get to it! 
Ingredients
Serves 1
1 piece of Lo-Dough
2 tablespoons of passata
40g mozzarella
40g soft goats cheese
100g of spinach, wilted
A few fine slices of red onion
What you'll need
This diet-friendly recipe is possible with:

Original Lo-Dough Bases
Regular price
from £3.49
Out of stock
Method
Preheat your oven to 220°C/Gas 7.
Spread the passata on the smooth side of your Lo-Dough, spreading right to the edge. Then add your spinach, grated mozzarella, goats cheese and onions.
Bake in your oven for 7-10 minutes, or until golden and bubbling. Dress with garlic/chilli oil if desired. Serve straight away.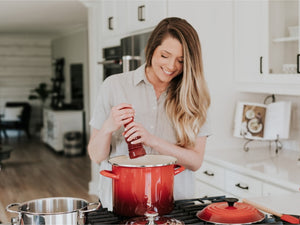 Hungry for more recipes?
Join over 200,000 subscribers in receiving new recipes, tips, offers and a whole lot more.