A perfect snack bite, ideal for a lunchbox or a picnic spread - but with each individual cake coming in at less than 100 calories and only 5.6g of carbs thanks to Lo-Dough and PBfit Peanut Butter.
These are deceptively simple to make and according to our customer experience manager, are 'like little bites of heaven - make another batch NOW'. Strong words from a passionate foodie.
See image below for an idea of how to set up your brownie tin:
Lo-Dough is:
gluten free | dairy free | fat free | low carb | sugar free | high in protein | high  fibre | vegetarian | 39 calories per piece 
Ingredients
Serves 3
1 piece of Lo-Dough, blitzed to fine crumbs
18g Pbfit Peanut Butter (1.5 portions) mixed with water as directed
20g Sukrin sweetener (or any good baking sweetener of your choice)
1 small egg, beaten
40ml of semi skimmed milk
A few drops of vanilla extract
15g of dark chocolate
What you'll need
This diet-friendly recipe is possible with:

Original Lo-Dough Bases
Regular price
from £3.49
Out of stock
Method
Preheat your oven to 200C/428F/Gas 7.
Take one third of the mixed peanut butter and pour out a little line the length of your brownie tin onto some greaseproof. Freeze for 10-15 mins minimum.
Add the eggs, milk, sweetener, remaining peanut butter and 2-3 drops of vanilla extract into a bowl and beat with a whisk. Add the Lo-Dough crumbs and combine.
If using a standard 8 inch tin, you will need to make an extra wall made out of tin-foil - this mix will fill roughly a third of an 8-inch square tin. Otherwise a small loaf tin or any small tin may be suitable (your Blondies can be any shape, as long as the are roughly 1.5cm/half and inch thick.).
Fill the chosen tin half way, then add the frozen strip of peanut butter and top up with the other half of the cake mix. Bake for 9-10 minutes - the sponge should feel slightly springy to the touch - if it's too soft, give the cake another minute.
Leave to cool on a rack and then carefully take out of the tin, remove the foil and greaseproof paper and cut into 3 squares. Top with a thin layer of melted dark chocolate (this can be melted in a bowl in a microwave for approx. 1 minute).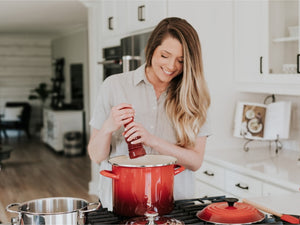 Hungry for more recipes?
Join over 200,000 subscribers in receiving new recipes, tips, offers and a whole lot more.