An indulgent yet low-calorie US favourite 
One way to take the peanut butter jelly sandwich up another level is to turn it into French toast. The slightly sweet, eggy custard really lends itself to the sweet, nutty combination.
To keep it low-cal and low-carb, go for a reduced sugar jam and a reduced-fat Peanut butter - for the latter, we'd recommend PBfit. 
This one is quick, easy and totally delicious - give it a go! 
Ingredients
Serves 1
1 piece of Lo-Dough, cut into quarters
1 large egg, beaten
20ml of semi-skimmed milk
Vanilla seed
1 tablespoon of erythritol sweetener
4 teaspoons of reduced sugar jam
1 servings of PBfit peanut butter
(made up with slightly more water than )
Recommended on their packaging for
A looser texture)
A few berries of your choice
Approx. 10 sprays of oil
What you'll need
This diet-friendly recipe is possible with:

Original Lo-Dough Bases
Regular price
from £3.49
Out of stock
Method
Add the egg, sweetener, vanilla seed and milk to a bowl and mix well with a fork. When combined, add your Lo-Dough. Leave this mix in the fridge for around 20-30 minutes for the Lo-Dough to absorb the liquid.
On a low heat, add the spray oil to a frying pan and gently fry the eggy Lo-Dough until golden brown. The Lo-Dough will be a little fragile after soaking, so treat it carefully.
Once cooked, drizzle the french toast with a teaspoon of jam and peanut butter on each piece - you don't have to spread it across - a drizzle will be plenty! Add some fresh fruit and top with skinny syrup for a finishing touch of sweetness.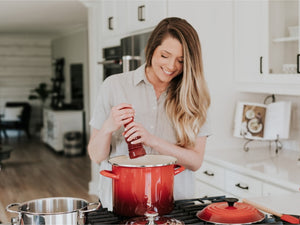 Hungry for more recipes?
Join over 200,000 subscribers in receiving new recipes, tips, offers and a whole lot more.