Ultra low calorie peanut butter & jelly sandwich
Enjoying the food your love whilst keeping on plan with your fitness goals - that's the Lo-Dough way. Using PBfit peanut butter and Stute's low sugar blackcurrant jam in combination with Lo Dough, you get a healthier and more nurtritious version of this classic snack to less than 200 calories without compromising on taste. You can cut the calories even further by leaving out the butter in the recipe, but we think the point of using Lo-Dough and other low calorie products is being able to enjoy additional tasty treats. 
One of the big keys to cutting calories here is swapping the bread out for Lo-Dough which comes in at less than a quarter of 2 slices of regular bread's calories, whilst at the same time offering 4 times the fibre. 
Some of the Lo-Dough team were initially sceptical, having not grown up on this stateside staple, but we are all converts now. Plus it's a no-cook Lo-Dough recipe, ready in 5 minutes.
Lo-Dough is:
low calorie | low carb | gluten free | dairy free | vegetarian | paleo | high fibre | high protein | fat free | sugar free | 39 calories per piece
Ingredients
1 piece of Lo-Dough
2 tablespoons of 'PBfit Peanut Butter' (mixed with water as directed on jar)
1 tablespoon of Stute's Blackcurrant Jam
5g of butter (optional)
What you'll need
This diet-friendly recipe is possible with:

Original Lo-Dough Bases
Regular price
from £3.49
Out of stock
Method
Cut the Lo-Dough into four quarters.
Spread two of the quarters with a fine layer of butter (if using), followed by the jam.
Spread the other two quarters with the peanut butter.
Stack up in alternate layers and enjoy!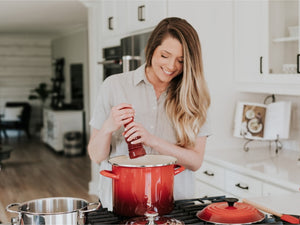 Hungry for more recipes?
Join over 200,000 subscribers in receiving new recipes, tips, offers and a whole lot more.