The breakfast phenomenon taking social media by storm. Do it the Lo-Dough way!
Pesto eggs on toast are a fantastic tasting breakfast/brunch dish, suddenly finding online popularity. By frying your eggs in pesto rather than plain oil, you are jacking up the flavour to a new level. But for low-carbers, the toast presents an issue. That's where Lo-Dough comes in - our cheese toasts sit perfectly under the herby, moreish eggs and at just a couple of carbs per portion are perfect for a low-carb or ketogenic (keto) diet. 
Ingredients
Serves 1
1 piece of Lo-Dough
2 eggs
1 tablespoon of pesto
50g mozzarella
1 heaped tbsp of light cream cheese
What you'll need
This diet-friendly recipe is possible with:

Original Lo-Dough Bases
Regular price
from £3.49
Out of stock
Method
Preheat your oven to 250°C/475F/Gas 9.
Spread the cream cheese across the Lo-Dough in a thin layer, right up to the edge.
Cover evenly with the cheese and bake in the oven for 7-10 minutes.
While the cheese toast cooks, fry your eggs in the pesto until done to your liking.
Serve with a crack of black pepper.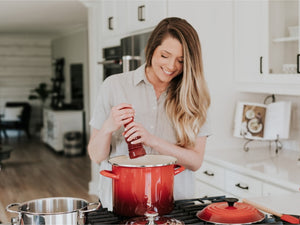 Hungry for more recipes?
Join over 200,000 subscribers in receiving new recipes, tips, offers and a whole lot more.