The low carb, low-calorie way: This is an easy vegetarian recipe packed with vitamins and rich with earthy and vibrant flavours. Follow this recipe to enjoy a gluten-free, high-fibre Fiorentina pizza, then top with mozzarella and spinach and finish off with a perfectly cooked egg.
Ingredients
Serves 1
1 piece of Lo-Dough
1 garlic clove, crushed
30g mozzarella, torn into small pieces
2 tbsp high-quality passata
50g washed spinach
1 free-range egg
Your choice: Frylight (slimming groups) or 1-2 tbsp olive oil (keto)
Salt & pepper
What you'll need
This diet-friendly recipe is possible with:

Original Lo-Dough Bases
Regular price
from £3.49
Out of stock
Method
Preheat the oven to 180˚C.
Remove one piece of Lo-Dough from the packet, peeling away the paper and fry on a medium-high heat for 1-2 minutes on each side.
Meanwhile, heat the olive oil/Frylight with the garlic for one minute, then add the spinach and cook for two minutes until wilted. Season with salt and pepper to taste.
Spread the passata over the Lo-Dough until the base has been covered and scatter the mozzarella and drained spinach over the top.
Crack an egg in the middle and spray with Frylight (or drizzle olive oil), season with salt and pepper.
Now slide your pizza directly into a hot oven/baking sheet and bake for approx 9-14 minutes depending on how you like your egg yolk.
Serve immediately.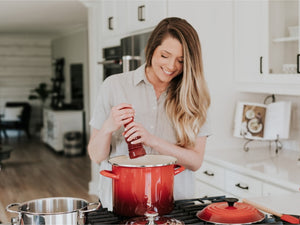 Hungry for more recipes?
Join over 200,000 subscribers in receiving new recipes, tips, offers and a whole lot more.