This culinary mash up combines the twin pleasures of a low calorie quiche AND a low carb pizza. The result is out of this world
Let us introduce you to the pizza-quiche! Taking the best elements of both dishes and combining works an absolute treat - essentially transporting the toppings of a pizza into a quiche. 
Our's differs in one other crucial way. By switching out the pastry for an Original Lo-Dough Base, you can cut down on calories, carbs and fat, while massively increasing the healthy fibre content of the dish. All of this, without altering the flavour or generosity of the filling.
This is killer-quiche and pizza-perfection combined! 
Ingredients
Serves 4
One piece of Lo-Dough, rolled flat with a rolling pin
4 large eggs, beaten
150ml of half fat creme fraiche
30g of grated mozzarella
3 tablespoons of passata
35g of thinly sliced chorizo (or pepperoni)
A bunch of parsley, chopped
Salt & pepper
What you'll need
This diet-friendly recipe is possible with:

Original Lo-Dough Bases
Regular price
from £3.49
Out of stock
Method
Preheat the oven to 160C/325F/Gas 3.
Push the Lo-Dough into a 7-inch tin. Make sure to do this evenly, taking care to push it into the corners and create an upright edge.
Whisk the 4 eggs and creme fraiche in a bowl with the parsley and season to taste with salt and pepper. Fill the quiche with the mix.
Arrange blobs of passata and the pepperoni in the mix and top with the cheese.
Bake in the oven for 30-35 minutes. Take out and allow to cool on a rack for at least 10 mins. Enjoy warm or cold!
For a lower calorie version, try swapping the fatty chorizo for leaner meat like ham/chicken - or indeed, vegetables. If you prefer more calories by way of fats, you could swap the half fat creme fraiche for double cream - also slightly reducing the carb content of the quiche.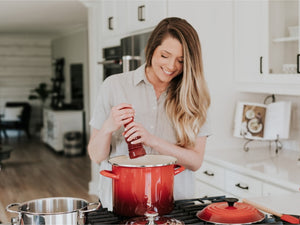 Hungry for more recipes?
Join over 200,000 subscribers in receiving new recipes, tips, offers and a whole lot more.