Kebab heaven! Low-carb Kebabs are the stuff of dreams - just make them with Lo-Dough
Easily a top 5 Greek dish (possibly jostling for the top spot with moussaka and Greek salad), souvlaki can be cooked under the grill but is almost certainly best straight off a charcoal BBQ. The simple marinade adds a perfect piquant flavour and when coupled with salad and tzatziki and served in a Lo-Dough wrap, the end result is superb and perfectly healthy.  
If you are feeling like throwing a few chips in, Lo-Dough has saved you on the carbs and calories already - why not make it gyros-style!
And make it extra tasty with Spicentice Greek Souvlaki Seasoning from our online shop.
Ingredients
Serves 1
1 piece of Lo-Dough
200g of pork loin steak, cut in to chunks
1 pack of Spicentice souvlaki seasoning
30g of Greek salad
A good pinche of dried oregano
1 small clove of garlic, crushed
1 tablespoon of fat-free yoghurt
A small handful of chopped mint
A wedge of lemon
A few sprays of fry-light oil
What you'll need
This diet-friendly recipe is possible with:

Original Lo-Dough Bases
Regular price
from £3.49
Out of stock
Method
Mix the chunks of pork with the seasoning and then skewer.
Spray a pan with the fry light, put on a medium-high heat and place your Kebab on. Cook for 10-15 minutes, turning every now and again.
Mix the Yoghurt, garlic and mint and a pinch of oregano in a bowl. Spread over the Lo-Dough. Arrange the salad and on top, followed by the kebab. Serve with a wedge of lemon.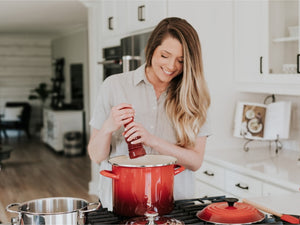 Hungry for more recipes?
Join over 200,000 subscribers in receiving new recipes, tips, offers and a whole lot more.