Try this incredible low-carb pizza. The taste will blow you away!
Bianca pizzas are a fantastic alternative pizza - a change to the usual tomato sauce base. It's super simple and definitely worth a try! This one is made with a ricotta base and mozzarella on top - Double cheese!
This has plenty of delicious prosciutto ham and nutritious spinach. It's an ideal pizza for low-carbers and even people following the ketogenic diet. 
Ingredients
Serves 1
1 piece of Lo-Dough
65g of grated mozzarella
40g of ricotta cheese
Half a clove of garlic, crushed
2 pieces of prosciutto (or parma) ham
40g of Spinach, wilted for 30 seconds in a pan
Salt & pepper
What you'll need
This diet-friendly recipe is possible with:

Original Lo-Dough Bases
Regular price
from £3.49
Out of stock
Method
Preheat your oven to 220°C/ 428°F/Gas 7.
Mix the ricotta and garlic with a pinch of salt and spread on the smooth side of your Lo-Dough, spreading it right to the edge. Then add your grated mozzarella, again, right to the edge.
Top with the ham and the briefly cooked spinach.
Bake in your oven for 7-10 minutes, or until golden and bubbling and serve with a crack of black pepper on top.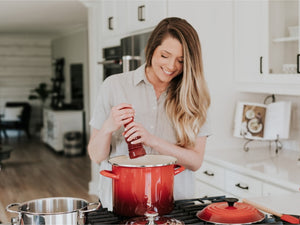 Hungry for more recipes?
Join over 200,000 subscribers in receiving new recipes, tips, offers and a whole lot more.