The Ultimate Protein-Packed BBQ Chicken Wrap 
A classic lunchtime flavour combination, BBQ chicken and salad in a wrap - but like you've never had before. Massively reduced in calories, carbs, using a sugar-free marinade and some simply prepared, flattened Lo-Dough, these beauties caused a stir at Lo-Dough HQ and a local gym in the last week.
By wetting the Lo-Dough, rolling out (between the greaseproof paper Lo-Dough comes with) and gently frying, you turn Lo-Dough into the ultimate tortilla-style wrap for sandwiches and burgers. This only takes a minute or two to do and once rolled in foil, your wrap is perfectly portable and ready to take to the gym for that post-work-out protein hit... or indeed, a perfect office lunch! 
Low-Calorie Wrap Perfection
Lo-Dough is really what you make of it and that little bit of love can transform it into the perfect thin wrap. For the rest of this recipe we used Spicentice's perfect BBQ blend as the initial dry rub for our chicken thighs (thighs always give more juicy results... but swap to breast if going for super low-fat). Halfway through cooking, we liberally coated the thighs in Blend Bro's BBQ sauce to create a savoury, mouthwatering chicken dish with the perfect BBQ flavour and tang. Other flavouring products can be used as ever, but for zero sugar, gluten-free done properly, these guys are our favourites. 
The rest of the wrap was simply a mixture of finely chopped salad vegetables and a light coating of mayonnaise sat atop a few green leaves.  
Find plenty more wrap recipes on our site!
Ingredients
Serves 1
1 piece of Lo-Dough
100g of chicken thighs
2 cherry tomatoes, diced
10g red onion, diced
10g radish, diced
10g cucumber, diced
10g pepper, diced
A few salad leaves
2-3g Spicentice BBQ rub
30ml of Blendbros BBQ sauce
1 tbsp of half-fat mayo
10 sprays oil
Seasoning
What you'll need
This diet-friendly recipe is possible with:

Original Lo-Dough Bases
Regular price
from £3.49
Out of stock
Method
Oil your chicken thighs (it's worth doing more than you need - these are delicious in many recipes - salads, stews, a stir-fry etc). Add a liberal sprinkling of BBQ blend spice to them and give them a brief massage. Season with salt and pepper. Cook in a hot oven (220C) for approx 30-35 minutes. 10-15 minutes from the end, add a good squirt of BBQ sauce to each thigh and return to the oven to glaze up.
Add all the chopped salad ingredients to a bowl (not the leaves) and give a good stir with the mayo. You can add crushed garlic for a punchy flavour if desired. Season and keep to one side.
Take your Lo-Dough and give it a little spray, or a quick splash with some water on both sides. Then place between to sheets of grease proof and roll until thin. Add a spray of oil to a pan and fry off the Lo-Dough for 15 seconds or so each side. Place on a piece of foil when ready.
Place the leaves on the Lo-Dough, the chopped and dressed salad on top and then your chicken on top of that. You can dress with some of the extra pan juices if desired - we very much recommend you do!
Tightly roll in the foil and save for later, or cut in half and start tucking in straight away!!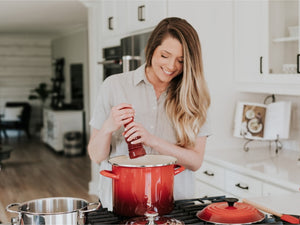 Hungry for more recipes?
Join over 200,000 subscribers in receiving new recipes, tips, offers and a whole lot more.