This High-Fibre, Low-Carb Wrap Is Just What the Doctor Ordered
We are very interested in the health benefits of fibre here at Lo-Dough - our product has 9.3g per piece, so it makes good sense. But another important gut-health related foodstuff to explore is probiotic bacteria. Probiotics are the good bacteria found in fermented foods - things like live yoghurt, kimchi, kombucha, miso and sauerkraut. While these foods ferment, the probiotic bacteria grow. These bacteria boost immunity, aid digestion and may even help us maintain a healthy weight. Look after your gut, and in turn, it will look after you.
Indeed, it is sauerkraut that we have combined with Lo-Dough, some pulled-pork and a fibre-rich black kale slaw to create the ultimate gut-health focussed wrap. Trust us - it might be good for you, but it also tastes incredible! The pork is meltingly soft and tender, the slaw is creamy with a sweetness coming from the carrots and a slight bitterness coming from the kale. The sauerkraut itself is packed with its own unique acidic flavour and takes this wrap to another level.  

A Low-Calorie Wrap 
As ever with a Lo-Dough recipe, this dish is also incredibly low in carbs and calories. It would make a perfect lunch, dinner and thanks to the high protein, a great post-workout snack. 
Whenever you choose to try it, you can be safe in the knowledge that you are getting great flavour, loads of fibre and also some probiotics too, just for good measure! 
Ingredients
Serves 1
1 piece of Lo-Dough
100g of pulled pork (You can use left over roast pork, by a supermarket pulled pork, or make your own especially
60g of sauerkraut
60g of cavalo nero, finely sliced
A small carrot, finely sliced
A few slices of red onion
2 tablespoons of mayonnaise
2 cherry tomatos, sliced
Salt & pepper
What you'll need
This diet-friendly recipe is possible with:

Original Lo-Dough Bases
Regular price
from £3.49
Out of stock
Method
Use a rolling pin to flatten down your piece of Lo-Dough. In the meantime, heat through your pork for 20 mins, or until piping hot.
Mix the cavalo nero, onion, carrots and mayonnaise together to make your slaw.
Place all the ingredients on the Lo-Dough and make your wrap. Serve and enjoy!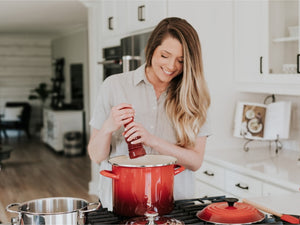 Hungry for more recipes?
Join over 200,000 subscribers in receiving new recipes, tips, offers and a whole lot more.