This is a perfect example of how switching bread and wraps for Lo-Dough gives you the ultimate freedom to eat the food you love, even in sunny barbecue season.  
An American classic, which found it's way onto British menus years ago, but can now find it's way onto low-calorie menus too (thanks to Lo-Dough). You might have had a pulled pork sandwich before - but not one quite like this. By swapping the standard bun out for Lo-Dough, you can slash the calories and carbs and remain on plan with your diet. 
What is a Lo-Dough wrap?
You can use leftovers from a Sunday roast, or roast the pork especially for this. You can even cook pork shoulder steaks on a BBQ - cook them slowly, over a few coals pushed to one side to keep them juicy and tender.   
We dressed our pork in Blend Bros Smokey BBQ sauce but you can buy any sauce as you wish from your local supermarket (just watch for the sugars).  Then we loaded up on full-fat coleslaw for a rich, creamy taste alongside the pork. Finally, we added some salad, a pinch of smoked paprika and wrapped it up in Lo-Dough, cutting the calories and carbs whilst boosting the fibre of this delicious dish.  
Lo-Dough is 39 calories per wrap 
It's true - your wrap is not only less than 40 calories, it's high in fibre, high in protein, and has just 2.2g of carbs (virtually carb free). It's so versatile as a product that you can have it as a pizza base, quiche outing, sandwich/toastie, or even blitz it up to make breadcrumbs for desserts.
See the Lo-Dough how-to guide here for more info.
Ingredients
1 piece of Lo-Dough
130g of cooked slow roasted pork shoulder, chopped/shredded up
30-40ml of Blend Bros BBQ Sauce
50g of coleslaw
Mixed salad ingredients of your choice
Salt & pepper
What you'll need
This diet-friendly recipe is possible with:

Original Lo-Dough Bases
Regular price
from £3.49
Out of stock
Method
Take your Lo-Dough wrap and add your choice of salad. We went with Gem Lettuce, some thinly sliced red pepper and a little thinly sliced red onion.
Top the salad with the coleslaw.
Add 20ml of the Blend Bros BBQ sauce to the cooked pork, mix well and microwave for 2-3 minutes, until piping hot. Season to taste with salt and pepper. Place on top of the coleslaw on your wrap.
Dress with the remaining sauce, wrap up and serve. We had some chargrilled corn alongside ours - any grilled vegetables of your choice would be ideal.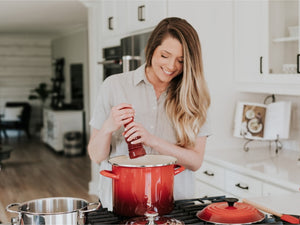 Hungry for more recipes?
Join over 200,000 subscribers in receiving new recipes, tips, offers and a whole lot more.