Perfect Purple Salmon on Lo-Dough
...just in time for Purple Day!
Omega 3-rich salmon, salad and Lo-Dough make for a delicious, low-calorie, low-carb meal that will bring a huge smile to your face. If you are on a keto diet, this one is definitely for you. 
It makes for a perfect spread to share with friends and family, or can be something you keep in your fridge and go back to throughout the week.
Remember to plan ahead with this one - the fish and curing mix will need to sit in the fridge for 36-48 hours before it's ready to eat.
The nutritional information stated below is approximate as the thickness of salmon and the exact length of time spent in cure may vary. If being cautious, try to keep the curing time down to 36 hours. This will cure the salmon safely for consumption, but will impart less of the actual cure into the flesh of the fish. 
Ingredients
1 piece of Lo-Dough (per person)
Half a side of fresh salmon
500g beetroot (raw)
200g sugar
400g salt
3-4 crushed juniper berries
Zest of one lemon
What you'll need
This diet-friendly recipe is possible with:

Original Lo-Dough Bases
Regular price
from £3.49
Out of stock
Method
Take the beetroot and either blend in food processor or grate.
In a large bowl, mix the beetroot with the sugar, salt, crushed juniper and lemon zest.
Spread half the mixture on a flat tray or plate and add the salmon. Add the other half on top.
Leave in the fridge for 36-48 hours.
Discard the beetroot mix surrounding the salmon and gently wipe with kitchen roll.
Colour up the Lo-Dough in a frying pan with a little fry-light and serve alongside the sliced salmon and any other accompaniments you desire (see image at top of recipe for inspiration!).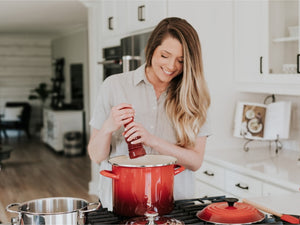 Hungry for more recipes?
Join over 200,000 subscribers in receiving new recipes, tips, offers and a whole lot more.