Lo-Dough makes for the perfect vessel to carry rich and decadent flavours, and if you're a cheese lover then there's nothing better than a gooey, melting Quesadilla. A traditional Quesadilla is a grilled tortilla with cheese inside but you can use pretty much anything your taste buds (and waist) will enjoy: Chicken, peppers, onions and mushrooms, chilli, guacamole, sour cream and cracked black pepper.
The opportunities are endless.
This recipe begins with two pieces of Lo-Dough and a rolling pin. Lo-Dough ensures that your carb and calorie consumption stays low so you can fill the rest of your calorie intake with your favourite ingredients. After we added the cheese and vegetables, we then placed two layered pieces into the oven for ten minutes and rejoiced in sharing the gooey goodness. Italian Rub Spicentice makes for a great spicy seasoner!
Note: If you're cooking this for one person, use one piece of Lo-Dough and cut in half.
Ingredients
Serves 1
2 pieces of Lo-Dough
30g chopped onion
30g chopped yellow pepper
30g chopped red pepper
1 fresh jalapeno pepper
1 generous tbsp passata
1 tsp Italian Spicentice
30g grated cheddar cheese
What you'll need
This diet-friendly recipe is possible with:

Original Lo-Dough Bases
Regular price
from £3.49
Out of stock
Method
Preheat the oven to 180°C.
Remove the pieces of Lo-Dough from the packet, peeling away the paper and set aside.
Take your rolling pin and roll both pieces of Lo-Dough until flat.
On one piece of Lo-Dough, spread the passata over the base and sprinkle the onion, peppers and grated cheese over the top.
Take the second piece of Lo-Dough and press on top on one another as though you're making a sandwich.
Sprinkle Spicentice over the top and place on the middle shelf of the oven for ten minutes.
Slice into quarters and serve immediately.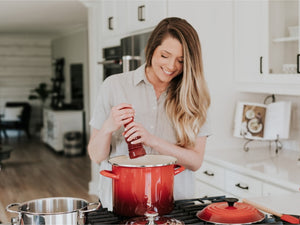 Hungry for more recipes?
Join over 200,000 subscribers in receiving new recipes, tips, offers and a whole lot more.