Low-Calorie and low-carb lasagne, using just one Lo-Dough base. A perfect solo portion.
Quick, simple and delicious... this one is all about getting a quick low-carb meal together making good use of leftover bolognese/ragu sauce (in this case, veggie - using lentils as a replacement for the usual mince). Don't bother with white sauce - creme fraiche and sliced mozzarella work brilliantly instead! 
Ingredients
Serves 1
1 piece of Lo-Dough
Approx. 200g of veggie ragu
30g of fresh mozzarella, finely sliced
15g parmesan, finely grated
40g creme fraiche
What you'll need
This diet-friendly recipe is possible with:

Original Lo-Dough Bases
Regular price
from £3.49
Out of stock
Method
Preheat the oven to 180C/Gas 4.
Cut your piece of Lo-Dough into quarters, and spread each quarter with two teaspoons of creme fraiche.
On a baking tray, layer up the quarters with veggie ragu (3 layers of ragu between the four pieces) in between each quarter.
Add your sliced mozzarella and parmesan on top.
Bake in the oven for 25-30 minutes, or until golden brown. Garnish with a few basil leaves if desired.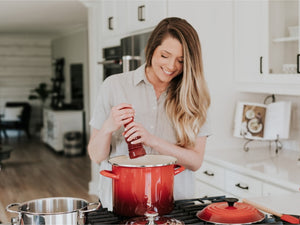 Hungry for more recipes?
Join over 200,000 subscribers in receiving new recipes, tips, offers and a whole lot more.