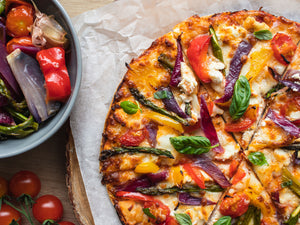 vegetarian
gluten-free
vegetarian
Roast Summer Veg Low Calorie Pizza
Share
Facebook
Twitter
WhatsApp
Email
Low-calorie pizza packed with the flavours of summer 
By combining the best veg of the season with a classic Lo-Dough pizza, we've come up with an incredible summer treat: a low calorie and low carb pizza that maxes out on flavour.
The roast veg can be done in an oven, in a griddle pan or ideally, grilled over the bbq. The flavour of smokey, charred veg is incomparable and well worth doing. They keep in the fridge for a few days, so its worth making more than you need and using in soups, salads, quiches, and of course on your low-calorie pizzas made with Lo-Dough!
Ingredients
Serves 1
1 piece of Lo-Dough
70g of grated mozzarella
2 tablespoons of passata
80g of mixed summer vegetables, roasted/grilled/bbqed
Salt & pepper
A llittle oil/spray oil
What you'll need
This diet-friendly recipe is possible with:

Original Lo-Dough Bases
Regular price
from £3.49
Out of stock
Method
Preheat your oven to 220°C/Gas 7.
Spread the passata on the smooth side of your Lo-Dough, spreading right to the edge. Then add your cheese, again, right to the edge.
Top with the cooked veg.
Bake in your oven for 7-10 minutes, or until golden and bubbling. Serve straight away.
As ever with Lo-Dough pizza, spread your sauce (and cheese) right to the edge.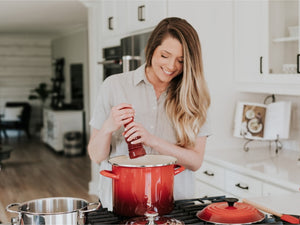 Hungry for more recipes?
Join over 200,000 subscribers in receiving new recipes, tips, offers and a whole lot more.