Making your own sauce from fresh produce is simple and will yield delicious results. 
Whether you grow your own tomatoes and need a recipe to use up a glut of tomatoes or simply fancy trying making your own sauce from scratch - this is a great tasting recipe... perfect for pizzas, but also, soups, stews, pasta sauces. 
Give it a go!
Ingredients
Serves 10
Approx 400g of normal sized tomatoes, halved
Approx 400g of cherry tomatoes, halved
A teaspoon of chopped thyme
1 clove of garlic finely sliced
30ml of extra virgin olive oil
A pinch of salt
A little fresh basil
Method
Put all the ingredients apart from the basil into a roasting tray and roast in a medium-high oven (approx 190°C/Gas 5) for around 1 hour.
Add the roasted tomatoes to a liquidiser/food processor with the basil and blitz into a sauce.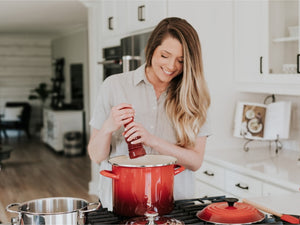 Hungry for more recipes?
Join over 200,000 subscribers in receiving new recipes, tips, offers and a whole lot more.