Gluten-free, protein-packed AND low carb? This salmon and dill flatbread has never been seen or done before, and it's about to change your life forever. Coming in at an incredibly 215 calories per 'flatbread', you'll love the taste of lemony dill yoghurt sauce with the finest smoked salmon. This makes for a perfect Pescetarian dish, and you could even bake instead of wrap and transform into a pizza!
Did you know? In Feng Shui, Salmon is highly regarded as having a 'dynamic chi energy' attached to it. Fish is generally a yin food, however, it becomes yang when smoked. 
Ingredients
Serves 1
1 piece of Lo-Dough
72g finest smoked salmon
1 tsp capers
30g quark
1 tbsp freshly chopped dill
1 tbsp fresh lemon juice
Frylight/low calorie cooking spray
A handful of mixed lettuce
What you'll need
This diet-friendly recipe is possible with:

Original Lo-Dough Bases
Regular price
from £3.49
Out of stock
Method
Remove a piece of Lo-Dough from the packet, peeling away the paper. Set aside.
Heat a griddle pan and when hot spray with low calorie cooking spray.
Meanwhile, add the quark, lemon juice, capers and chopped dill together in a mixing bowl and stir until smooth.
Fry the Lo-Dough on the griddle pan in oil for 30 second on each side. To achieve the griddle lines, press down firmly with a spatula whilst cooking.
Remove from heat and place onto a chopping board. Add the lettuce and salmon onto the Lo-Dough and top with homemade yoghurt sauce, then tuck into a triangle.
wrap, eat and enjoy!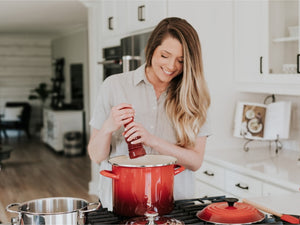 Hungry for more recipes?
Join over 200,000 subscribers in receiving new recipes, tips, offers and a whole lot more.