Since first trying them, we've fallen in love with Lo-Dough fishcakes. Rather than using the traditional high in carbohydrate mashed potato to bind the fish, we use our blitzed down Lo-Dough crumbs, a beaten egg and spoon of quark, alongside simple tinned salmon (fresh would work well too) and the result is fantastic. 
Amazingly, it works out at just 2.2g carbs for a substantial salmon fish cake (see image).
At 230 calories and 28g of protein, this is a great recipe if you're slimming or working out - you can even add hollandaise (or mayo) to push it in a keto-direction. In fact, given the low calorie count of the fishcake itself, we'd just add the hollandaise anyway - that's the point of Lo-Dough - you can treat yourself! 
Thousands of Lo-Dough users swear by our nutritional, low calorie alternative meals. Whether you are slimming or focused on your fitness and nutrition, using Lo-Dough can be a real game changer.
Ingredients
Serves 1
1 piece of Lo-Dough, blitzed to a crumb
100g tinned Salmon, drained well
1 small egg, beaten
20g quark or light cream cheese
A small handful of dill, chopped
A teaspoon of capers, chopped
6 sprays of oil
Salt & pepper
What you'll need
This diet-friendly recipe is possible with:

Original Lo-Dough Bases
Regular price
from £3.49
Out of stock
Method
Add your ingredients to a bowl and mix. Form into a fishcake.
Add your spray oil to a pan and fry the fishcake on a medium heat until golden brown.
Serve with salad, a blob of mayonnaise and a wedge of lemon.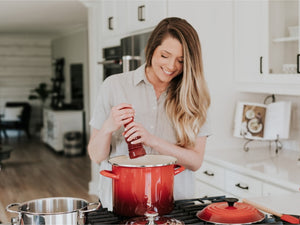 Hungry for more recipes?
Join over 200,000 subscribers in receiving new recipes, tips, offers and a whole lot more.