Fitness fuel on low-carb bread - unbeatable
And a super-simple and highly economical late night supper (or breakfast, lunch or snack!) to boot. Open a tin of sardines, griddle your Lo-Dough and cut into toasts and them put them together. Five minutes later, dinner is served. You can add a sprinkle of flat parsley if you're feeling fancy - it adds a lovely flash of colour and fresh flavour, but this one is really all about the fish.
In this case, one Lo-Dough creates more than enough for two people to eat - using one can of sardines (just 39p) each. It's high in protein, low in carbs and only 204 calories. It's the perfect post-workout snack. 
NOTE - Do not put Lo-Dough in a toaster.
Lo-Dough is:
low calorie | low carb | gluten free | dairy free | vegetarian | paleo | high fibre | high protein | fat free | sugar free | 39 calories per piece
Ingredients
Serves 2
1 piece of Lo-Dough
2 tins of sardines in tomato sauce
A few leaves of parsley, finely chopped
Spray-oil
What you'll need
This diet-friendly recipe is possible with:

Original Lo-Dough Bases
Regular price
from £3.49
Out of stock
Method
Heat up a griddle pan, give it a few sprays of oil and quickly toast your Lo-Dough until it has some bar marks on it and a slightly crispier texture - this won't take very long.
Empty the tins of sardines into a saucepan, bring them up to a simmer and cook for around 5 minutes, ensuring they are cooked through.
Once ready add the sardines on top of the toasts and sprinkle with parsley if using. Serve straight away.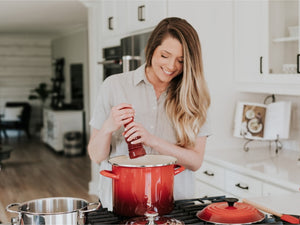 Hungry for more recipes?
Join over 200,000 subscribers in receiving new recipes, tips, offers and a whole lot more.