A Low-Calorie Breakfast That Feels Hearty & Satisfying? Make It With Lo-Dough...
If breakfast really is the most important meal of the day, then it makes sense to have something that is tasty, filling and perhaps most importantly, packed with fibre. Fibre will keep you feeling fuller for longer as well as aiding with all kinds of gut-related issues. This Lo-Dough breakfast wrap is packed full of fibre - 11g of the stuff! That said, it's not just packed with goodness - it's packed with flavour. Two sausages split in half, a serving of scrambled egg, with sliced onion and chipotle paste (Trust us - it's scrambled eggs on another level!), as well as gherkins and tomatoes for tang and freshness.  
Using Lo-Dough As A Low-Calorie Wrap
Making a low-calorie wrap is incredibly easy and of course, you can just make it with Lo-Dough as it is, straight out of the packet. But we find that if you take a rolling pin and flatten out your Lo-Dough (it takes less than 30 seconds), the experience is dramatically improved. What this does is gives you something far more akin to a tortilla wrap in terms of texture. After this, what you are experiencing is just the delicious fillings you put inside!
Start your day the way you mean to go on... Make it with Lo-Dough.
Ingredients
Serves 1
1 piece of Lo-Dough
2 Sausages (we used Heck's 97% pork)
1 medium egg, lightly beaten
Half and onion, finely sliced
A table spoon of chipotle paste
1 gherkin, finely sliced
1-2 cherry tomatoes, sliced
A few sprays of oil
Salt & pepper
What you'll need
This diet-friendly recipe is possible with:

Original Lo-Dough Bases
Regular price
from £3.49
Out of stock
Method
Use a rolling pin to flatten down your piece of Lo-Dough.
Put your sausages under the grill to cook, turning occasionally.
Fry the onion until soft and then add the egg and chipotle and scramble.
Once everything is cooked, slice the sausages in half lengthways and add to your wrap, with the egg mixture. Garnish with the sliced tomato and sliced gherkin. Wrap up and serve.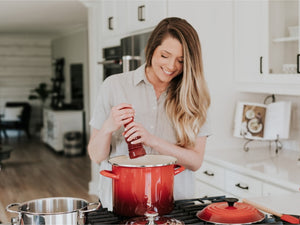 Hungry for more recipes?
Join over 200,000 subscribers in receiving new recipes, tips, offers and a whole lot more.