This delicious low-cal calzone will blow your mind!
We've gone down the traditional Italian route with this calzone... filling the inside with ricotta, sausage and roasted peppers and pouring over the marinara sauce afterwards. The non-traditional bit is we've swapped the carb-heavy pizza dough for Lo-Dough... making this calzone low-carb, low-calorie, high protein and high fibre.
Perfection!
Ingredients
Serves 1
1 Lo-Dough base
2 chipolata sausages (we used Heck chicken), cooked and chopped into chunks
30g of red pepper, sliced
70g of ricotta cheese
30g of grated mozzarella
10g of parmesan, finely grated
To serve
What you'll need
This diet-friendly recipe is possible with:

Original Lo-Dough Bases
Regular price
from £3.49
Out of stock
Method
Preheat your oven to 220°C/ 428°F/Gas 7.
Add the cooked sausage, peppers and ricotta to the middle of your Lo-Dough.
Wet the edge over your Lo-Dough with a little water and fold the over to form your calzone. Apply a fair amount of pressure to ensure it seals.
Top the calzone with the mozzarella and parmesan.
Bake in your oven for approx 10 minutes, or until golden. Serve with a little extra pizza sauce to dip in or pour over.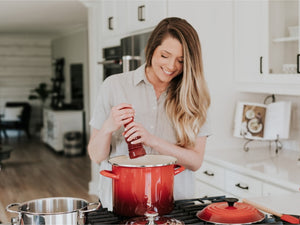 Hungry for more recipes?
Join over 200,000 subscribers in receiving new recipes, tips, offers and a whole lot more.