Add a simple fruity twist to our delicious low-calorie brownies
Pear and chocolate is another fruit/chocolate pairing that works well. Another thing that works very well indeed are the incredible macros these brownies offer! Low-carb, low-calorie and incredibly high in fibre. 
Try out your favourite fruits with our brownie mix and see which ones work best for you! 
Note - we've used a circular tin and divided this mix into 8 lightly larger portions, not the usual 9. 
Ingredients
Serves 8
1 pack of Lo-Dough Brownie Mix
1 ripe pear, diced
250ml of water
What you'll need
This diet-friendly recipe is possible with:
Lo-Dough Brownie Mix
Regular price
£5.59
Out of stock
Method
Make the Lo-Dough Brownie Mix as per the packet instructions, adding diced pear into the mix.
Add the mix to your lined tin and bake for 25 minutes at 190C.
Allow to cool, then cut into 8 portions and serve.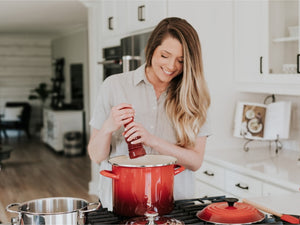 Hungry for more recipes?
Join over 200,000 subscribers in receiving new recipes, tips, offers and a whole lot more.