What is it about the combination of base, cheese tomato and toppings that just keeps on giving and giving? Well, with Lo-Dough as your low calorie pizza base, you don't need to worry about the answer - you can keep on enjoying pizza over and over - knowing each time, it's not going to ruin your slimming plans. On a diet? Have a full pizza for just over 200 calories. Because Lo-Dough gives you leeway.
A low calorie pizza base means freedom 
Instead of a traditional/classic recipe, this one is a mix of supermarket bought favourites, as well as Nowt Poncy's Arrabiata (you can use any Arrabiata or normal passata if this isn't to hand) and Eatlean Cheese (normal cheese is perfectly fine, but Eatlean is great for shedding extra calories).
On top of that, it's ham, chicken, onion and chillis - a great low fat, high protein combination that will aid not just slimming goals, but fitness goals too. 
A Lo-Dough pizza base is a winner
It was previously unheard of to have a pizza base so much like bread but without the calories and carbs. Being able to put pizza back on the menu is one of Lo-Dough's proudest achievements. At just 39 calories per pizza base, it's nothing short of a revolution in the slimming and fitness world.
Ingredients
1 piece of Lo-Dough
20g grated mozzarella
35g of Eatlean cheese
50g of Nowt Poncy's Arrabiata/shop-bough arrabiata/passata
20g of chicken (1 slice), cut up into pieces
20g of ham (1 slice), cut up into pieces
4 jalapeno chillis, diced
¼ of a red onion, diced
A few slices of red chilli and leaves of basil to garnish (optional)
A crack of black pepper
What you'll need
This diet-friendly recipe is possible with:

Original Lo-Dough Bases
Regular price
from £3.49
Out of stock
Method
Preheat your oven to 250°C/475F/Gas 9.
Spray the fry-light into the pan and fry off your Lo-Dough to add some colour to the base.
Put the browned Lo-Dough onto your cooking mesh/grill bars/pizza stone/air-fryer stand and spoon the pizza sauce over, making sure to spread it right to the edge.
Add the cheese on top, followed by the chicken, ham, jalapenos and onion, distributing as evenly as possible.
Bake in your oven for 7 - 10 minutes, or until golden and bubbling. Serve straight away with a crack of black pepper over the top and the chilli/basil garnish if using.
💡 Top Tip
If you feel you like your base could be crispier when it comes out, try adding back to a hot, dry frying pan for 8-10 seconds and remove with a spatula.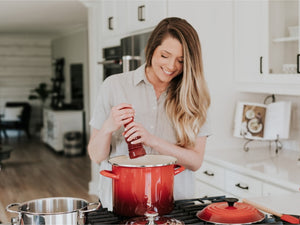 Hungry for more recipes?
Join over 200,000 subscribers in receiving new recipes, tips, offers and a whole lot more.