A 260 Calorie Kebab Sliced Off The Skewer? No Problem
Shawarma (Donner is the Turkish variation) is a Levantine meat preparation of layering meat on a spit and cooking on an upright rotisserie grill. As it rotates and cooks, it can have shavings of cooked meat sliced off, ready to eat in a flat bread as a kebab, usually served with a simple salad and often a little mint and herb sauce too. Maybe chilli sauce if you are a spice-fiend!
This slimming friendly version uses lean, fat-trimmed chicken thighs coated and left in a fat-free yoghurt marinade with Spicentice's Turkish Donner Kebab blend (you can make your own blend of spices - but this one is super tasty and authentic!) and served in a Lo-Dough wrap. The Lo-Dough will dramatically reduce the calories and carbs usually found in a traditional kebab bread - be it, pitta, naan or flatbread.
You can trade in the thighs for breasts and reduce the calories further, but the final result will be a little less juicy - for our money, it's thighs every time. With enough for 8 satisfying portions, the shawarma itself is enough meat to feed a family of four across two separate meals - for variety, the leftover meat could be added to a curry the next day. That said, you might just love these kebabs so much, you'll have a second go at them...
Making A Slimming Friendly Kebab At Home Is Easy
For home cooks, this may seem a little like hard work, but fear not: it's actually an incredibly simple recipe - marinade the meat, get the meat on a makeshift upright spit (two or three skewers stuck into a large potato - trust us!) and then place in the oven - outside of the time needed to marinade, the preparation will take only 15-20 minutes and while it cooks in the oven, you are free to do other things. 
At 260 Calories, 8g of carbs and 7g of fat per portion, kebabs are back on the slimmer's menu! 
Ingredients
Serves 8
1 piece of Lo-Dough (per portion)
20g of iceberg lettuce, shredded (per portion)
10g of onion, sliced (per portion)
Half a tomato sliced (per portion)
For the chicken/marinade
8 chicken thighs, skinned, boned and trimmed of any fat
1 sachet of Spicentice Turkish Donner Kebab
100g of fat free yoghurt
1 clove of garlic, minced
What you'll need
This diet-friendly recipe is possible with:

Original Lo-Dough Bases
Regular price
from £3.49
Out of stock
Method
In a large bowl, mix all the marinade ingredients thoroughly and then place the chicken in it. Stir well to ensure the chicken is well coated. Leave in the fridge for at least a couple of hours, or overnight.
Preheat your oven to 180C/356F/Gas mark 6. Arrange the shelves so you have plenty of vertical room.
Take the potato and cut off 1cm slice off on the widest side so that it sits flat. Put two or three skewers into the potato, pointy side facing up. If using wooden skewers, it is advisable to soak them over night.
Slide each thigh down the skewers until you have a tall, 8-9 thigh tower of chicken (see picture for reference).
Place in the oven for 1.5 hours. Check halfway through and turn around if necessary. You want the outside to char a little.
Serve with a Lo-Dough wrap, the salad ingredients and some sauce (we made a mint and fat free yoghurt dip, as well as a little chilli sauce).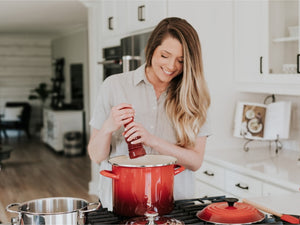 Hungry for more recipes?
Join over 200,000 subscribers in receiving new recipes, tips, offers and a whole lot more.