These beautiful Enchiladas are packed with stir-fried, turkey thigh meat and mixed vegetables, rolled up in Lo-Dough and covered with a spice packed passata and some Eatlean Protein Cheese. You could always use smaller amounts of cheddar or mozzarella if you didn't have Eatlean, any cheese works because Lo-Dough gives you leeway.
Either way, The result is a delicious, Mexican mid-week supper or weekend treat, ready in 45 minutes and one that is ideal for slimmers.  
What Exactly is Lo-Dough and how does it work?
Lo-Dough is your 39 Calorie bread alternative which in this case works as your tortilla wrap. It's incredibly low-carb and is perfect for a low-carb diet, as well as a ketogenic diet. Its high fibre content keeps you full, and it basically gives you leeway to still eat enchiladas as well as other dishes including pizza, quiche, and low calorie desserts.
Here's how Lo-Dough looks in the packet:
Using it for these enchiladas is easy. You can moderate the spice in this one to your own tastes. We used a good pinch of Spicentice chipotle mix per portion, but you could go with cumin and paprika and get a delicious tasting enchilada too.
So, without further adieu  - let's get cooking!
Ingredients
Serves 2
2 pieces of Lo-Dough
70g of Eatlean cheese
100g of diced turkey thighs
1 small red onion, sliced
1 small red pepper sliced
1 clove of garlic, finely chopped
1 small red chilli, finely chopped
60g of passata
20g chipotle spice rub (or a mixture of paprika, cumin and thyme)
A handful of fresh coriander
10 sprays of Fry-Light
What you'll need
This diet-friendly recipe is possible with:

Original Lo-Dough Bases
Regular price
from £3.49
Out of stock
Method
Preheat your oven to 200C/400F/Gas 6.
Spray a large frying pan, with the oil and fry the turkey meat until brown. After a few minutes, add the onion, pepper, garlic and chilli and continue to cook for a couple more minutes.
Add the spice mix and cook for a further minute until everything is coated - then add the passata and continue to cook until bubbling. Add the fresh coriander and then take off the heat and allow to cool a little.
Roll out your Lo-Dough so they become a little thinner. Use a slotted spoon to get the meat and vegetables from the sauce (retain any sauce for the next step) and make up your two enchiladas by placing the mix down the middle of each piece of Lo-Dough and rolling over into wraps.
Take a tight fitting baking dish and add half the sauce. Place the two wraps in side by side (fold side down to make sure they stay shut). Add the remaining sauce and cheese on top - ensure the wraps are well covered. Place in the oven and cooking until golden and bubbling - this should take approx 15 minutes.
Serve alongside some salad, a little more chilli, fresh corriander and either a little sour cream or fat free yoghurt.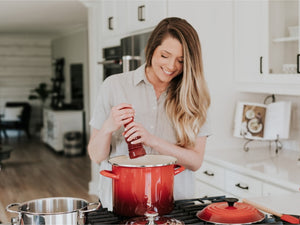 Hungry for more recipes?
Join over 200,000 subscribers in receiving new recipes, tips, offers and a whole lot more.