Our lowest calorie blueberry pancakes are the perfect slimming breakfast treat
Finding a satisfying slimming breakfast can be a stretch. The NHS recommends no more than 400 kcal for breakfast just as a general healthy rule. For those looking to lose weight, this figure can be even lower still, which means it can be difficult to enjoy anything that feels like a satisfying treat to start the day.
That's where Lo-Dough comes in. We do things differently - using our Original Lo-Dough Bases blitzed down as a flour replacement, they can be incorporated into amazing tasting low calorie recipes such as these incredible slimming friendly pancakes.
We've gone with blueberries, but as ever, when making your own, you are in control - use the ingredients you like and the flavours you love. Just make it with Lo-Dough. 
Ingredients
Serves 1
1 piece of Lo-Dough, blitzed to fine crumbs
1 large egg, beaten
50ml of milk
60g of blueberries
2 heaped teaspoons of erythritol sweetener (or any other sweetener of your choice)
20 sprays of spray oil (or if on a keto diet - use butter)
What you'll need
This diet-friendly recipe is possible with:

Original Lo-Dough Bases
Regular price
from £3.49
Out of stock
Method
In a bowl, mix the Lo-Dough, beaten egg, sweetener, blueberries and milk thoroughly. You should have a thick, nearly cake like batter (you can do all this in a Nutri-bullet/liquidiser for a smooth batter).
Heat up a large frying pan (on a low heat) and spray approx. 10 times with the oil. Add four goods spoons of the mix into the pan to create 4 pancakes.
Once ready to turn, lift each pancake with a spatula and before flipping over, quickly add another couple of sprays of oil to the bit of the pan where it came from.
Once ready, serve as desired (creme fraiche, yoghurt, sugar free syrups, fruit, jams, spreads, etc).
Always use a non-stick pan when frying batters in low-cal sprays.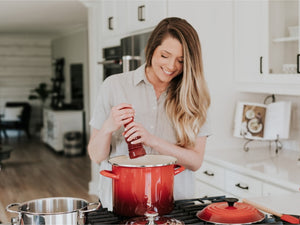 Hungry for more recipes?
Join over 200,000 subscribers in receiving new recipes, tips, offers and a whole lot more.