Our 176 calorie, slimming-friendly pizza is the perfect fix for those of you on weight loss diets
If you are taking part in a slimming group, look no further than our incredible low-calorie pizza to give a bit of something special to look forward to at meal times. 
To keep the calories down, we've combined our Lo-Dough product with Eatlean cheese to cut out not just the carbs, but the fat too, while keep the protein and fibre nice and high.
Quick and easy to make, low in calories and tasty as you like, this is the ultimate diet hack that give's you access to a delicious tasting pizza you can enjoy on a slimming diet.
Ingredients
1 piece of Lo-Dough
20g grated mozzarella
37g of Eatlean cheese
60-70g of passata
1-2 cherry tomatoes, sliced
A pinch of dried oregano
A tablespoon of fresh, chopped basil
A crack of black pepper
What you'll need
This diet-friendly recipe is possible with:

Original Lo-Dough Bases
Regular price
from £3.49
Out of stock
Method
Preheat your oven to 250°C/475F/Gas 9.
Put the Lo-Dough onto your baking tray and spoon the pizza sauce over, making sure to spread it right to the edge.
Add the cheese on top, distributing as evenly as possible and sprinkle over a little oregano and a few sliced of cherry tomato.
Bake in your oven for 7 - 10 minutes, or until golden and bubbling. Serve straight away with a crack of black pepper over the top.
💡 Top Tip
If you feel you like your base could be crispier when it comes out, try adding back to a hot, dry frying pan for 10-20 seconds and remove with a spatula.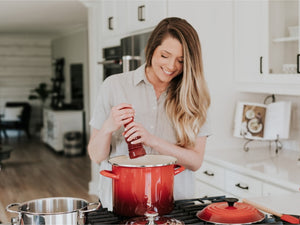 Hungry for more recipes?
Join over 200,000 subscribers in receiving new recipes, tips, offers and a whole lot more.