A Slimming-Friendly Quiche Packed With Nutritious Fish & Watercress
At just 177 calories per quarter, 3.3g carbs and 18g of protein, this quiche is another game changer from Lo-Dough. While designed to be slimming-friendly, this one is also ideal as a post-workout treat, thanks to the incredible low-carb/high-protein content. What's more, the taste is fantastic - hot-smoked salmon, classically partnered with dill, as well as peppery watercress and cheese - a beautiful and harmonious combination of flavours.  
Quiche, broadly speaking is a healthy, veg and protein-packed dish, but when encased in (admittedly delicious!) fatty, carby pastry, it can become calorie-laden and problematic for dieters of all varieties. By swapping this out for Lo-Dough, the problem is soon solved - with the added bonus of a massive fibre hit, thanks to the Lo-Dough 'case'.
To keep the calories low and the protein high, we used Eatlean's Grated Protein Cheese. It's an incredible product and one we recommend. If you don't have it, you could use a low-fat cheddar, but Eatlean is the lowest calorie cheese available. 

Low-Calorie Pastry Alternative
Using Lo-Dough as your pastry alternative paves the way for super healthy quiche dishes among many, many more. Even if you are not a vegetarian and you just enjoy the delights of asparagus and quiche, this recipe is a great way to enjoy good food which is low calorie, low fat, and high in protein and fibre. 
Buy your Lo-Dough bread and pastry alternatives today. 
Ingredients
Serves 4
1 piece of Lo-Dough
4 eggs, beaten
150ml semi-skimmed milk
100g of hot-smoked salmon, flaked
40g of Eatlean Protein Cheese, grated
25g of watercress, any large stalks removed
A small handful of dill, finely chopped
Salt & pepper
A few sprays of fry light
What you'll need
This diet-friendly recipe is possible with:

Original Lo-Dough Bases
Regular price
from £3.49
Out of stock
Method
Preheat the oven to 160C/325F/Gas 3.
Roll out your Lo-dough flat and it into a 7 inch tin. Make sure to do this evenly, taking care to push it into the corners and create an upright edge.
Mix the eggs and milk in a bowl with a whisk. Add the chopped dill and season with salt and pepper.
Arrange a layer of cheese, followed by the flakes of salmon and then the watercress in your quiche base.
Carefully pour the egg mixture over the salmon, cheese and watercress.
Bake in the oven for 30-35 minutes. Take out and allow to cool on a rack for at least 10 mins. Enjoy warm or cold!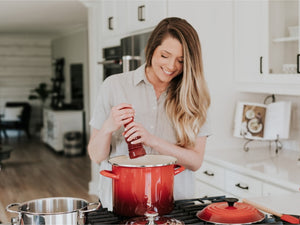 Hungry for more recipes?
Join over 200,000 subscribers in receiving new recipes, tips, offers and a whole lot more.