The dream low calorie dish for those of us watching our calorie intake. Nicknamed by many Lo-Dough lovers as the "slimmers quiche" - it's as delicious as it is healthy. Oh, and it couldn't be simpler to make - just make sure you have a 7 inch quiche dish (standard size). This is the perfect size for your Lo-Dough.
New to Lo-Dough?
It's a wonderful food innovation made in Rochdale, Greater Manchester, which has taken the UK and Europe by storm. Lo-Dough is a very unique bread and pastry alternative which has a stunning 2.2g carbs and 39 calories per piece, meaning your quiche base has the rough calorie content of an apple. It can also be used as a pizza base amongst many, may, other things.
Read the guide on how to use Lo-Dough here - it's packed with great ideas!

Here's how it makes a superb low calorie quiche 
A cottage cheese and egg mix works incredibly well, if you've never tried it, we urge you to. In this case it's also packed out with spinach, onion and mushrooms, spiked with chilli and then dusted with a little smoked paprika. Healthy, hearty and perfect in the summer weather, this one was a winner with Lo-Dough regulars, easily converting the cottage-cheese sceptics in one mouthful.  
The fat, calories and carbs in quiche are usually found in the pastry, so by switching out for Lo-Dough makes perfect sense.
Don't forget, you need a 20cm (7inch) sandwich tin or quiche tray to get the perfect shape. 
Super low in calories, carbs and fat, and takes literally minutes to make. It works as a quick fix if you're running short of time like so many of us are, or if you have veggie friends coming over for lunch/dinner and you want to show them how a great meat free quiche is done.
Note: The nutritional info here is for a quarter of a quiche, but even if you ate half, you'd still be consuming very few calories and carbs. Trust us, half will be more than enough to satisfy any hungry person at any time of the day - all you might want extra is a nice salad.
Enjoy your quiche making with Lo-Dough!
Ingredients
Serves 4
1 piece of Lo-Dough
5 chestnut mushrooms
100g of spinach
Half an onion, sliced
Half a red chilli, finely chopped
1 tablespoon of chopped parsley
150ml of fat-free cottage cheese
4 eggs
A good pinch of smoked paprika
Salt & pepper
What you'll need
This diet-friendly recipe is possible with:

Original Lo-Dough Bases
Regular price
from £3.49
Out of stock
Method
Preheat the oven to 160C/325F/Gas 3.
In a frying pan, soften the onions and mushrooms for a for minutes in a little spray oil. For a final minute, add the spinach and wilt. Allow to cool and squeeze over a sink to get rid of some of the water.
Push the Lo-Dough into a greased and lined tin, taking care to push it into the corners and create an upright edge.
Arrange the spinach, mushroom and onion mix on the Lo-Dough.
Whisk the 4 eggs and cottage cheese in a jug with the parsley, season to taste with salt and pepper and carefully pour over the vegetable mix.
Bake in the oven for 30-40 minutes. Take out and allow to cool on a rack for at least 10 mins. Dust with a little paprika. Enjoy warm or cold!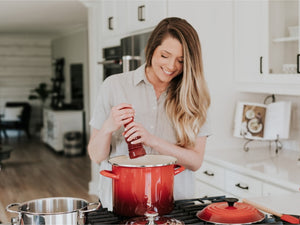 Hungry for more recipes?
Join over 200,000 subscribers in receiving new recipes, tips, offers and a whole lot more.