Healthy, nutritious, and super low calorie lunch anyone? 
Smoked haddock makes for a great, full-flavoured fishcake and with Lo-Dough, the calories and carbs won't rack up. They are also extremely high in protein which makes them a great post-workout meal. It's an easy dish to make and the mix could easily be prepared ahead and kept in the fridge during the day, so all you need to do is cook them off when you are ready.
We've served ours on a bed of cheesy, creamed leeks, but be conscious of the hefty carbohydrate the leeks will add. Mayonaise or hollandaise would be equally delicious, or just a squeeze of lemon. Also, try adding capers and chopped gherkin to your salad for extra piquant flavours to work alongside the fishcake. 
Lo-Dough is: 
High fibre | fat free | low-carb | gluten free | dairy free | high protein | paleo | vegetarian | sugar free 
Ingredients
1 piece of Lo-Dough, blitzed to a crumb
100g of smoked haddock
1 large egg, beaten
20g of quark
A spring onion, finely chopped
1 tablespoon of chopped parsley
6 sprays of fry-light
Salt & pepper
What you'll need
This diet-friendly recipe is possible with:

Original Lo-Dough Bases
Regular price
from £3.49
Out of stock
Method
Add your smoked haddock to a pan of simmering water and poach gently for 6-8 minutes until cooked through. Allow to cool for a couple minutes and break apart into flakes.
Add your flaked fish and all the other ingredients to a bowl and mix well. Form into a large cake, 1.5cm - 2cm thick. At this point you could put the cakes in the fridge until you need them later in the day.
Oil a pan with the fry-light and on a medium heat, fry the cake for approx. 3-4 minutes on each side, until golden brow.
Serve with salad and any side dish of your choice.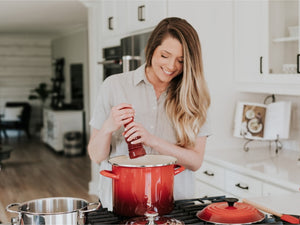 Hungry for more recipes?
Join over 200,000 subscribers in receiving new recipes, tips, offers and a whole lot more.