Any pancake is made possible with Lo-Dough: The only limit is your imagination. Rather than skimp on toppings with a traditional pancake to allow for the carb content, you can now have all of your favourite toppings without restraint because Lo-Dough will take the carb/calorie hit on your behalf! Being gluten-free, low carb and only 39 calories a piece, you can now have pancakes every day of the week.
Now that's a cause for celebration.
Don't miss out on the Lo-Dough Bread & Butter Pudding 
Ingredients
Serves 1
1 piece of Lo-Dough
30g Applewood smoked ham
A handful mixed mushrooms
½ onion
30g gruyere cheese
A handful of washed spinach
One egg (for soaking)
¼ cup milk (optional)
Frylight
What you'll need
This diet-friendly recipe is possible with:

Original Lo-Dough Bases
Regular price
from £3.49
Out of stock
Method
Remove one piece of Lo-Dough from the packet, taking care to peel away the protective paper. Place in a suitable container with the egg/milk mixture and allow approx 20-60 minutes.
Meanwhile, spray the Frylight over a medium heat in a medium skillet. Add mushrooms, onions, and spinach and cook until tender, about 10 minutes, stirring frequently. Stir in black pepper and fresh herbs, if using.
Remove the Lo-Dough from the mixture, shaking off any excess. Using a hot frying pan, cook for 2-3 minutes on each side.
Remove from the heat and place the smoked ham in the middle, layering the mushrooms, onions and spinach on top. Finally, add the gruyere cheese and wrap your pancake under and over.
You can now enjoy your pancake as it is, or press for a further 5 minutes using a hot sandwich press (we used George Foreman) to melt the cheese.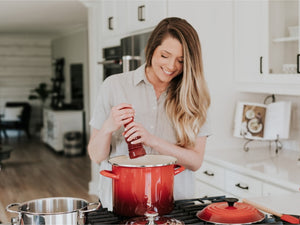 Hungry for more recipes?
Join over 200,000 subscribers in receiving new recipes, tips, offers and a whole lot more.