This low-carb breakfast is the perfect way to start the day
Smoked salmon and scrambled eggs are just a perfect treat for breakfast. The soft, creamy eggs (flecked. with chives or spring onion tops) perfectly compliment the smokey flavour of the salmon. For those on low-calorie or low-carb diets, the hack here is to swap your toast for Lo-Dough... or in this case Lo-Dough french toast - savoury style! It doesn't stop there... this one is high protein and high fibre too (not to mention healthy omega 3 fats).
Just soak your Lo-Dough in a little savoury egg mix for a minimum of 20-30mins (or overnight) before the meal and gently fry as your eggs cook through - it's couldn't be easier...  or tastier. 
Ingredients
Serves 1
1 piece of Lo-Dough, cut into quarters
3 large eggs, beaten
20ml of milk
10g of parmesan 60g of smoked salmon
A few finely sliced chives/spring onion tops
20 sprays of oil
What you'll need
This diet-friendly recipe is possible with:

Original Lo-Dough Bases
Regular price
from £3.49
Out of stock
Method
Add one egg, milk and parmesan to a bowl and mix well with a fork. Season with a little salt and pepper (go easy on the salt). When combined, add your Lo-Dough. Leave this mix in the fridge for a minimum of 30 minutes, for the.
Lo-Dough to absorb the liquid.
In one start to slowly cook the other 2 beaten eggs in 10 sprays of oil. Do this over a low heat and continue to stir until the eggs are cooked as you like them.
Meanwhile, on a low heat, add the other 10 sprays of oil to frying pan and gently fry the eggy Lo-Dough until golden brown. The Lo-Dough will be a little fragile after soaking, so treat it carefully.
Once everything is cooked, stack up on a plate and serve with the smoked salmon on top. Finish with a few more chives/spring onion tops or fresh parsley if desired.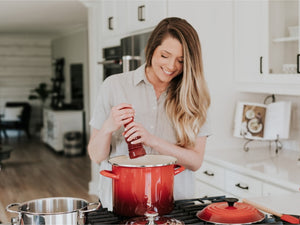 Hungry for more recipes?
Join over 200,000 subscribers in receiving new recipes, tips, offers and a whole lot more.